Henry Ford (1863-1947) and Madam CJ Walker (1867-1919) were two forces of nature that traveled in totally separate circles. Yet through cultural diffusion, their dreams and inventions would inextricably link African Americans and the industrial revolution for generations to come.
Cultural diffusion is the spread of cultural items—such as ideas, styles, religions, technologies, and languages—between individuals, whether within a single culture or from one culture to another.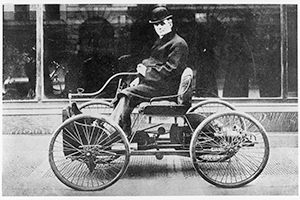 So let's talk technology. Henry Ford was an American industrialist and business magnate, founder of the Ford Motor Company, and chief developer of the assembly line technique of mass production. When he observed that automobiles were regarded as an expensive curiosity that few could afford, he resolved to flip the paradigm. By adopting the assembly line and introducing mass production to the automobile industry, Ford made his products an accessibly convenience that profoundly impacted the landscape of the 20th century.
In the 1920s, Henry Ford hired thousands of African American men for his open-shop system of auto manufacturing. This move was a rejection of the notion that better jobs were for white men only. In the book The Making of Black Detroit in the Age of Henry Ford, Beth Tompkins Bates explains how black Detroiters, newly arrived from the South, seized the economic opportunities offered by Ford in the hope of gaining greater economic security.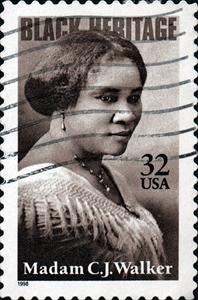 Madam C. J. Walker (1867-1919) was the first Black female millionaire in America. She made her fortune thanks to her homemade line of haircare products for Black women. Born Sarah Breedlove to parents who had been enslaved, she was inspired to create her hair products after an experience with hair loss, which led to the creation of the "Walker System" of hair care. A talented entrepreneur with a knack for self-promotion, Walker built a business empire, at first selling products directly to Black women, then employing "beauty culturalists" to hand-sell her wares. The self-made millionaire used her fortune to fund scholarships for women at the Tuskegee Institute and donated large parts of her wealth to the NAACP, the Black YMCA and other charities.
So, how do these two historical influencers link together? Madam Walker was in search of a way to distribute her products in a more efficient and far-reaching manner. She didn't want hair products for Black women to be regarded as a luxury, but rather an affordable commodity for a severely underserved demographic. So, she looked to Henry Ford's assembly line and the way he made automobiles more accessible. Like Ford, Madam Walker was looking to flip the paradigm on an entire industry and change life for many people. This goal is what led her to develop the products that comprised the Walker System while training and empowering the entire community of Black women to follow in her footsteps.
Sarah also hired a team of saleswomen, known as Walker Agents who used that direct sales model and worked door-to-door in their own Black communities across the country. The company opened a beauty school in Pittsburgh followed by additional schools in other locations. The result? Millions of African American women were able to procure hair products that were nonexistent in local stores due to racism and economic exclusion.
Presently, African Americans spend $1.2 trillion each year on hair care and haircare products, and that number is projected to continue rising. This statistic is an homage to Madam Walker's hard work, entrepreneurial spirit, and the influence of Henry Ford along the way. It is proof that we are stronger and more effective when we work together. When we put our minds together, combining a variety of viewpoints and backgrounds, we develop real solutions. And when we consciously reject the cancerous effects of hate, we all win.