Hospitals are one of the most energy-intensive commercial building types—the US healthcare sector occupies only 1.6 billion square feet, but its energy consumption is disproportionately high, at 1.5 quadrillion BTU's each year.

Although the healthcare sector typically prioritizes spending on medical equipment over energy efficiency upgrades, 69 percent of hospitals already have computerized building automation systems in place along with electronic healthcare management for tracking patient records, scheduling and so on. That's why this sector is uniquely suited to adopt smart data-providing and energy-saving technologies that can integrate with these existing systems.
According to ACEEE estimates, energy-efficient technologies can help the average hospital save 28 percent on HVAC energy, 20 percent on water heating, and 30 percent on lighting. Let's delve into each of these areas in a bit more detail.
HVAC
Other commercial buildings—like offices, hotels and stores—can achieve significant energy savings by cutting back HVAC operation when applicable. For example, they could reduce operation or setback temperatures while spaces aren't occupied. But hospitals typically operate 24/7, every day of the year, and few spaces are unoccupied for any significant length of time. So, it can be difficult for hospitals to save energy with the same methodologies typically applied in other building types.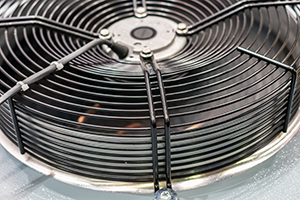 What's more, smart-controlling HVAC systems in hospitals require more consideration than elsewhere. For instance, certain spaces in hospitals need excessive ventilation or need to be pressurized in certain ways to prevent the spread of airborne pathogens, so reducing airflow to save energy isn't always possible either.

But there are other ways in which hospitals can use smart tech to save on HVAC. For example, hospitals may choose to replace outdated pneumatic heating and cooling controls with a smart direct digital control (DDC) system to implement additional energy savings techniques. However, a full system upgrade like that can be prohibitively expensive. A far more cost-effective alternative is to install wireless pneumatic thermostats, which allow for two-way communication with the space. As a result, patients can gain additional control of their space and improve occupant comfort, while HVAC energy use can still be cut by 5 to 15 percent.

Smart window films and automated shades can also help save energy by reducing cooling load—and they can be regulated remotely by patients, offering them an important degree of control over their comfort.
Energy management and information systems (EMIS)
A hospital EMIS is especially helpful for identifying equipment faults. With the complex demands on HVAC systems to meet ventilation, dehumidification and space temperature requirements, it's a common fault for these systems to try to heat and cool the air at the same time. An EMIS can help identify this problem quickly, so that it can be fixed before too much energy is wasted. Similarly, if an air-handling unit fails, early detection is key to make sure poor air quality doesn't harm patients' health.
Lighting
Many hospitals are offering patients more control over their room lighting as well. Smart lighting retrofits allow patients to adjust lighting levels and colors to match their preferences—and can save the hospital 20 to 40 percent of lighting energy.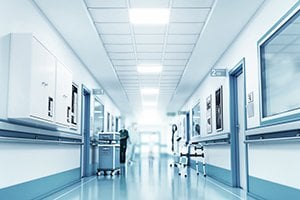 Savings can also be achieved by installing daylighting or occupancy sensors and dimming controls in hallways and common spaces, to take advantage of natural daylight and reduce energy while areas are not occupied.
Plug loads
Imaging equipment, like MRI machines and CT scanners, represent a significant cooling demand and plug load in hospitals. Equipment like this clearly needs to be able to power up quickly when needed, but should include smart controls to allow a low-power 'sleep mode' when not in use.
DERs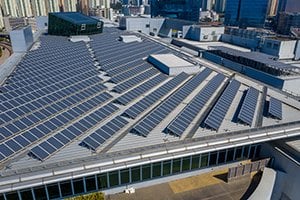 Uninterrupted energy supply is critical for hospitals. That's why they're more likely than other commercial buildings to install distributed energy resources (DERs).
For example, hospitals can benefit greatly from having renewable energy sources like solar photovoltaic panels on site, as well as energy storage systems like lithium-ion batteries or fuel cells, to provide emergency backup power. With a smart inverter to allow a continuous two-way connection with the grid, DERs can respond automatically to load signals, demand response events and power outages.
Non-energy benefits
Sensors and controls that help maintain temperatures, air pressure, humidity and light levels not only provide safe and comfortable conditions for patients, but can also speed up their recovery. Studies show that smart lighting controls mimicking natural daylight cycles can improve healing in intensive care conditions. By contrast, patients in rooms with traditional hospital lighting may be more likely to experience nightmares.
Conclusion
Ultimately, the most important stakeholder in a hospital is the patient. While saving energy in hospitals is obviously important, it's the comfort, well-being and recovery of patients that will always be the key drivers for adopting smart energy-efficient technology in hospitals.
To explore implementing smart data-providing and energy-saving technologies with hospitals in your area, start a conversation with an expert today!