Integrated Marketplace Sprint Recap (with Bonus Interview!)
February 1, 2021 •Megan Nyquist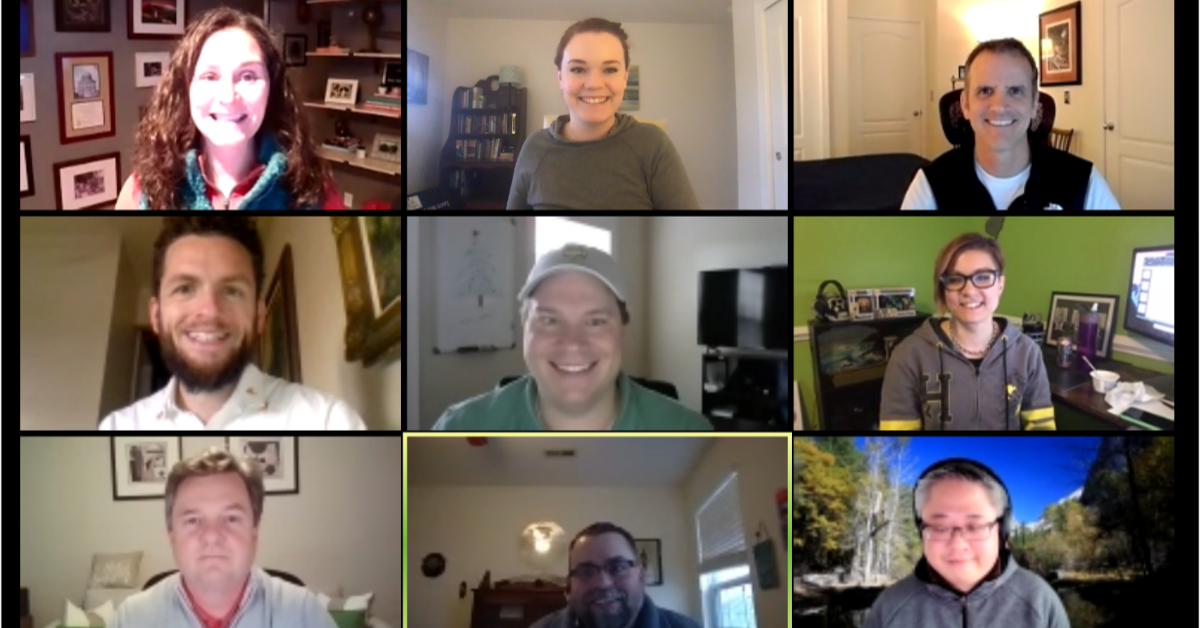 Over the last 18 years at Franklin Energy, a lot has changed. And I mean a lot. What was once a small company of 20 working out of a humble office above a bakery in quaint Port Washington, WI, has grown to thousands of experts working throughout the United States and into Canada. In the midst of all that change, one name has stayed constant: Eric (whose real name is David, but that's a post for another day) Wall. Currently Director of Solutions on the Product Strategy Team, Eric started as an engineering intern over 18 years ago.
He's the resident OG Franklin employee.
I first met Eric on my second (or maybe third?) day at Franklin Energy, almost seven years ago. I remember meeting with him in our Mequon, WI office as he was excitedly explaining his idea for a better way to process project applications, and I was a marketer who had no idea what he was talking about. That idea has since grown into our NGAGE technology suite, and it does so much more than just collect application information.
If you ask anyone at Franklin Energy, Eric is the "idea guy" who also happens to have the drive and knowledge (technical, industry and institutional) to make those ideas a reality. He's always willing and able to explore new ways of doing things and work hard at growing them into viable, differentiated solutions. Always excited and talking a mile a minute about whatever he's excited about. Always trying to show me those ideas in PowerPoint form because he knows I'm a visual learner. So, when he called me seven months into the pandemic about his ideas for a truly integrated marketplace solution, I jumped at the opportunity to facilitate a (virtual) Innovation Sprint around it. And I made him the Decider.
Aside from just growing in size, our company has also grown in solutions. We have a best-in-class e-commerce solution for products we not only manufacture but also fulfill; industry-leading program solutions across energy efficiency, demand response and other distributed energy resources; and an integrated, customer-focused engagement platform to support them both. Our challenge was to bring these three key elements together in a new and differentiated solution for an integrated marketplace that only Franklin Energy and AM Conservation Group could deliver.
So, I cleared my schedule, harassed a cross-functional team from across both companies to do the same, and we set about solving for our goal: To provide a simple, scalable platform that easily inspires customers to participate in utility programs and delivers on client goals. Oh, and we needed to do it in a week…via Zoom…the week before Christmas…while playing "COVID-shutdown goal catch-up" in the midst of a pandemic.
This was the fifth sprint our Innovation Team has led, and our fourth done virtually this year (thanks, COVID). If you are interested in learning what that Innovation Sprint process looks like and seeing some of the others we have completed to date, check out this blog about our virtual audit solution sprint.
Needless to say, with Eric as our Decider, our latest Innovation Sprint was a success. I sat down with him for a virtual interview to discuss the experience.
Megan: So, Eric, how is what we built this week better than a traditional transactional e-commerce experience or what is currently offered on a utility's program landing pages?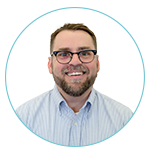 Eric: It's better in every way! With this new solution, we're able to provide the first turnkey, one-stop experience to meet utility goals for today and tomorrow. We're leveraging our relationships, e-commerce expertise, customer engagement tools, fulfillment capabilities, and our experience with contractor management to provide customers with the resources needed to move forward with major home-improvement projects in a format that's as simple as buying a LED lightbulb from our current online stores.
Megan: As the lead of our e-commerce marketing team, I'm knee-deep in our industry's digital transformation. And after everything I've seen, I'm really excited about where this can go. What types of projects are the main focus for this new component of our integrated marketplace solution?
Eric: We're primarily focused on complicated home-improvement projects that have energy-saving and demand response-enabling product components, but the possibilities within the platform are almost endless. These projects are really complex for the average homeowner, which can sometimes be hard for me to remember as a mechanical engineer, and it has been difficult for anyone else to come up with a solution to make it easy for consumers. Our pre-sprint user testing taught us that advanced filtering tools and product feeds from a variety of retail vendors are great, but they're still very overwhelming to the average person. Normal buyers just want a recommendation from someone they trust, and they want the process to be super easy and straightforward. We really embraced that challenge this week.
Megan: You've sort of "been there, done that" with these Innovation Sprints at this point, having participated in three prior ones. Anything that surprised you this time around?
Eric: Yup. I thought I knew where we would end up with this Innovation Sprint because I've spent a TON of time thinking about this solution, but I was delightfully wrong.
Megan: Yeah, I was sort of expecting to get an "Eric Wall Sketch" in a PowerPoint slide on Day 1 with your big idea laid out in exquisite detail.
Eric: I thought going into this I had it all figured out. I really did. But we ended up with something totally different, and infinitely better! That's why we have this step in our product development process. Diversity and focused effort really do breed innovation.
Megan: One of my favorite parts of this process is the user testing. Was there anything that surprised you with the testing feedback?
Eric: Yeah. I was surprised that so many of the users were totally OK purchasing expensive products recommended by their utility. They didn't want to spend a lot of time on features and specs, which is how we've historically focused all our filtering tools. They just wanted a credible source to give them advice on what to choose for their specific situation. I mean, that's what we were going for and what we ultimately want, but I really didn't think it would be so unanimous.
Megan: Totally. I'm going to be honest…a lot of these products all look the same to me, and I work in this industry. You know this because I kept choosing the wrong images for the prototype and making rookie mistakes with the copy. So, I can totally relate to just going with whatever a trusted recommendation is.
Eric: [eyeroll]
Megan: Alright, last question. What is your single largest takeaway from the Innovation Sprint?
Eric: We need to keep looking for new ways to tackle what's hard. Anyone can do what's easy or what's always been done.
Megan: Very true. Thank you for giving me more of your time this week and for leading us as the Decider in this Innovation Sprint. I'm excited to move this product to the next stage of development.
Thinking back on this year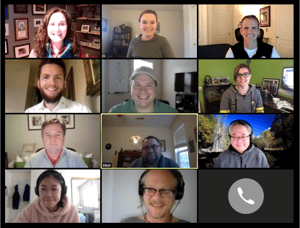 It amazes me what we were able to get done. We were thrown into quarantine in March. Programs were shut down, and we had to lay off team members. But instead of "waiting it out," we quickly went into a series of three back-to-back Innovation Sprints (which I will never try to do again, BTW), which ultimately produced two new product offerings, one of which is not only complete, but live with clients. And the other is getting ready to launch. We could have been set with that. But we kept pushing and fit in one last amazing week of innovation to solve for one of our largest solutions to date. I'm thankful every day that I get to be a part of these projects and work with amazing, creative and innovative people like Eric.
Ready to learn more about what we built? Schedule a demo to learn more.