Marketplace Enhancements for Your Online Store
February 11, 2019 •Megan Nyquist
As utility customers grow and change, the services and products they need—and the shopping experience to buy them—do too. That's why marketplace enhancements might be a good upgrade for your online store. These enhancements can:
Provide better customer care with online chat.
Help encourage demand response participation through device connections at the point of sale.

Provide an installation option for products like smart thermostats or EV charging stations.

Help integrate retail partners into your customers' online shopping experience, by helping them compare products, read reviews, and shop for larger energy-saving products, at the same time they're shopping for smaller products like LEDs, showerheads and smart thermostats.

Help promote other DSM programs by providing rebate offers and enrollment links within the online store, or even instant rebates accessible via a mobile device for those who prefer to shop in-store.

Integrate directly with your customer engagement platform to convert recommendations to action.
These enhancements can help engage customers in new, technologically advanced ways, while contributing to your online store's growth driven design initiatives. Research, and our own client evaluations, have shown that well-designed marketplaces are successfully engaging customers and helping utilities meet their savings goals. And in some states, like New York and California, utility mandates to promote customer engagement will require marketplaces like this, according to a recent Utility Dive article.
Meeting Current & Future Needs
A huge advantage of marketplaces is that they create clearer water- and energy-saving choices, both for current needs and as households grow, move and change.
As FreshMR points out, customers aren't always well-equipped to choose energy-related products and services. But as they become accustomed to online research and shopping, utilities need to keep up if they want to stay relevant to customers today and into the future.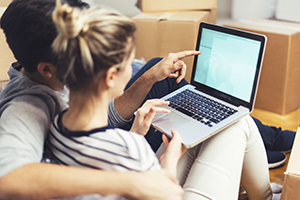 Marketplaces can keep pace with customers' life changes. For instance, when a parent with a growing family is planning kitchen upgrades, they can easily compare and order a faucet aerator, smart thermostat and decorative LEDs in the marketplace, sign up for their utility's demand response program to increase their smart thermostat incentive, then compare various appliances and prices at local retailers to make an informed decision about which products are best for them. A marketplace can simplify the overall shopping, comparison and rebate-redemption process, and if customers get stuck, they can get help quickly with online chat tied to a full-time customer care center whose agents have access to their entire customer record. They're a great tool to turn customer touchpoints into customer trust points.
The Future of Marketplaces
As marketplaces gain more traction, we'll continue to see grid optimization products and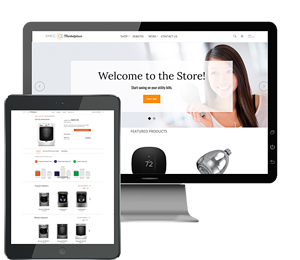 services being integrated, such as EV charging stations and concierge tools that help customers select a local, highly recommended solar provider. In our modern age of smartphone convenience and interconnectivity, the creativity and innovation of utilities' marketplaces are limitless as long as the user experience (UX) is strong, the services and products are relevant to consumers and the platform engages the population.
Dedicated to Driving Innovation
Because we hope to see marketplaces succeed—and drive a better future for our utility clients, the customers we both serve and the planet—we've collaborated with our sister company AM Conservation Group to develop various marketplace enhancements to their base online store.
Want to learn more about your Marketplace options? Check out this video!
The result? A robust, customizable and scalable marketplace solution for our clients, which can easily be integrated into other elements of our NGAGE technology suite. NGAGE Marketplace was designed to promote customer engagement and improve customer service. Across the US, we expect to see marketplaces become a mainstay—one that engenders real change in energy savings.
Schedule an NGAGE Marketplace demo today to learn more!