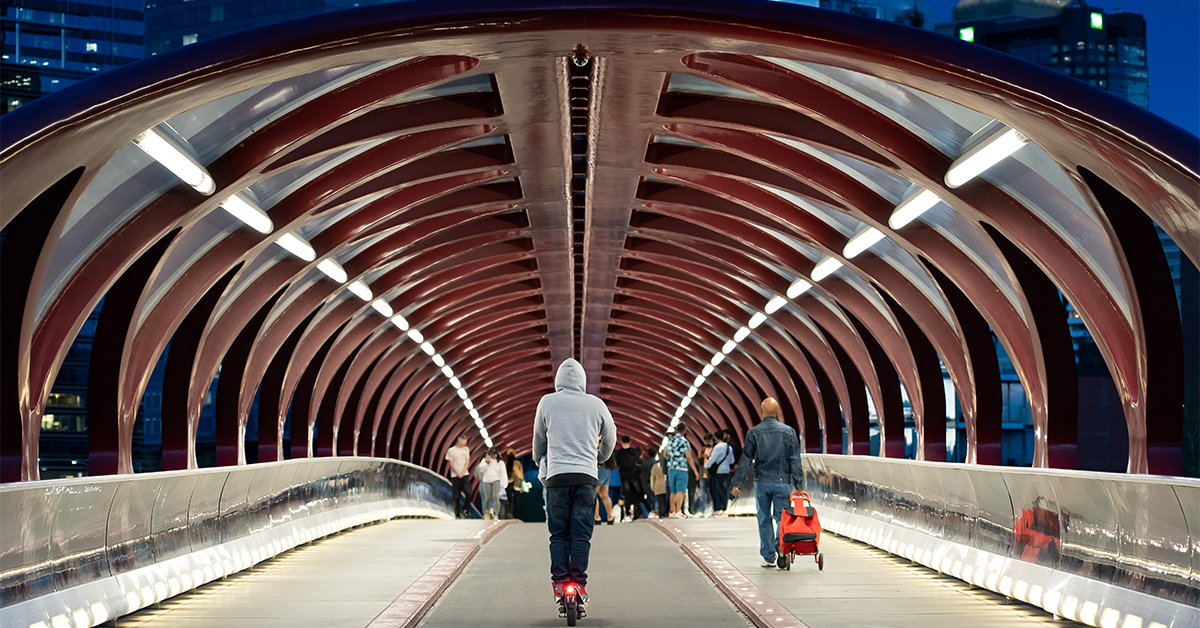 Over the holidays I took my mom to Paris. Since transportation electrification is a major component of the Paris Climate Change Agreement, I figured it was a good opportunity to live a la Parisienne and show my mom the sights, while getting inspiration for the EV solution my team is focused on here in the US.
Founded in 259 BC, Paris is one of the most densely populated cities in the world. There are challenges to integrating a transportation electrification strategy into any urban environment, but imagine doing so in an old European city with tiny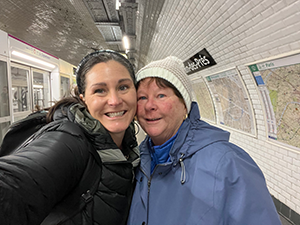 cobblestone streets, tightly packed historic buildings, and what I can only imagine is an antiquated electric infrastructure? Tres difficile.
I rented us a flat in Montmartre—a picturesque neighborhood with many walkable amenities and things to do—and we attempted to take clean transportation everywhere we couldn't walk. Upon arrival at Charles de Gaulle airport, we realized the Paris Metro workers were on strike and public transportation had come to a standstill, so we settled for a taxi. I can only imagine the chaos this was creating in the city, given it's the second busiest Metro system in Europe.
The next morning, the strike was over, and we were back in action for several days, taking the Metro at rush hour with five million of our newest friends to places like St. Germain and Les Halles, which we'd then explore on foot. We easily navigated the transition from the Metro to the Gare du Nord—even though it's the busiest railway station in the world outside Japan—to board a train for Versailles. Then we biked around the city and parks surrounding the palaces in dedicated bike lanes. Mom voted no to e-bikes but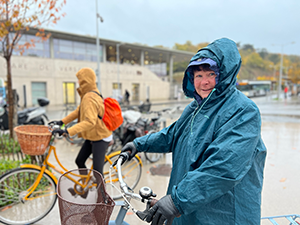 regretted that when she realized we'd be peddling in the rain all day. C'est la vie.
We learned to make croissants, shopped at Anthony Bourdain's favorite kitchen shop, ate our way through morning markets with Michelin-starred chefs, and saw Gabriel's restaurant from Emily in Paris. In between all the foodie activities, I asked Parisians lots of questions about EVs and EV charging and researched the local transportation electrification strategies. Here's what I learned, how that compares to what we're experiencing here in the US, and what could be useful to integrate into American transportation electrification strategies.
EV Charger Installation Volume is Impressive, But More Is Needed
Paris is currently one of the most developed countries in Europe when it comes to EV charging infrastructure, according to Europcar, with 30,000 charging points on their 6,200 miles of road. And they're installing about 400 public chargers a week, according to McKinsey, which is the fastest pace of installation in the EU and double that of Germany, which comes in second.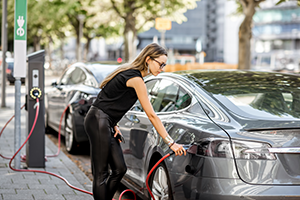 But as impressive as 400 charger installations a week sounds, it's unfortunately insuffisant.
McKinsey estimates it'll take an average of 6,000 charger installations a week for the next decade to meet France's needs. That's a 1400 percent increase. In addition to public charging points, France's recent "Mobility Bill" provides all residents—whether they own a home or rent an apartment—the right to have a charging point installed with minimal approvals or permitting requirements. Here in the US, many utilities are offering EV make-ready incentives for commercial and residential customers, and a large multi-state utility on the East coast recently launched an EV charger leasing marketplace to reduce the barrier of upfront costs of EV charging, which will help to expand access for low-income homeowners and renters as well. In addition, states like CA are working to standardize and streamline permitting processes with AB1236.
Creative approaches like these are important. Residential and workplace charging are critical components to an effective overall transportation electrification strategy since large hubs of public DC Fast Chargers (DCFC) can have shocking impacts on both electric demand and the time required to complete installations. McKinsey noted the need for significant load capacity to support DCFC and suggested proactive grid upgrades and backup storage solutions as possible mitigation strategies in Europe. A recent study by National Grid, Calstart, RMI, Geotab, and Stable Auto noted similar concerns in the US. It concluded that highway charging and densely packed urban charging hubs will likely require between 5 megawatts (MW) in charging capacity to meet peak charging demand by 2030 and as much as 40 MW at large passenger/truck stops by 2045. That's roughly equivalent to the electric load of an outdoor professional sports stadium and a major industrial site, respectively, which will make siting near existing high-voltage transmission systems important. A rapid increase in the installation of home, multi-unit dwelling (MUD), and workplace chargers, in addition to the continued aggressive installation of public charging stations with forethought about how demand will be met, will combine to help meet future charging needs.
But still, more is needed.
Micromobility Can Help Bridge the Gap
Paris mayor Anne Hidalgo believes all Parisians should be able to reach the locations and amenities to meet their daily needs within 15 minutes. This makes public transportation and micromobility—defined as any small, low-speed, human- or electric-powered device—core to Paris' overall transportation electrification strategy.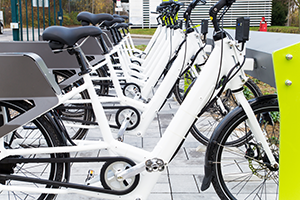 This transformation was most evident in residential neighborhoods of Paris, like where our flat was in Montmartre, or in tourist areas, like the Champs Elysees. Many of the parking spots on the side streets had been converted to parking and charging hubs for public bikes, e-bikes, and e-scooters. There are currently 15,000 shared e-scooters and e-bikes in Paris, plus a rapidly growing number of privately owned e-scooters and e-bikes.
France leads European countries in e-scooter use, per a recent Boston Consulting Group (BCG) report, and 42 percent of residents already combine bike use with public transportation several days a week, making France second only to China worldwide. ACTON is working to deploy infrastructure to support micromobility and they plan to complete the installation of 200 stations in 23 locations in Paris by the end of 2022. These stations will allow riders of private and shared e-bikes and e-scooters to park and charge them in designated areas, which will keep pedestrian areas clear and provide secure storage. The charging stations are helping to connect key transportation hubs with residential areas and universities and are powered by either existing streetlights or solar. C'est magnifique.
On early, dark morning walks to the Metro, you'd see Parisians of all ages using bikes and scooters and taking advantage of plentiful bike lanes to safely get to either other forms of public transportation, or directly to work or school. One memorable woman in Versailles was dressed to the nines, red-soled Louboutin heels and all, peddling through the rain with a cigarette dangling from her mouth. I didn't expect French cities to both look relatively the same as they had in the late 19th century and be so conducive to micromobility. In contrast, my children can't safely ride bikes or scooters to school in our Upstate NY suburb because we don't have sidewalks or bike lanes on the busy roads connecting them to neighborhoods.
Micromobility Supports Equity Goals
In Paris, like many US cities, most low-income residents live in MUDs and don't have cars. An intermodal strategy that integrates micromobility with public transit services is believed to be the most effective path to reduce congestion and emissions, while solving first and last mile gaps, according to BCG. As a bonus, it also contributes to joie de vivre. Single tickets that give riders access to trains, the Metro, buses, e-bikes, and e-scooters are important to help drive adoption and increase access and affordability. BCG analysis suggests people are even willing to pay more for these tickets, but expanding infrastructure to support micromobility (e.g., bike lanes, storage options, charging hubs, extended coverage to underserved areas) is a critical component.
Closer to home, the Federal Highway Administration recently noted that "e-scooter share programs lend themselves to disadvantaged communities" and the Chicago Department of Transportation (DOT) recently developed an e-scooter program as part of their larger equitable transportation initiatives. More work needs to be done to expand the infrastructure to support these initiatives in the US, however. A recent NACTO working paper notes cities and neighborhoods that have been systemically disenfranchised in the US also tend to lack comfortable and protected bikes lanes, sidewalks, and safe crossing points. It will be important for state DOT to include infrastructure improvements along with any bike share or charging initiatives to ensure success.
Since Micromobility Can be Polarizing, Regulation is Important
Although there's been substantial progress in the rise of micromobility in Paris, there have been challenges as well. E-scooters are quite polarizing—they can be seen as either an eyesore likely to cause accidents, or a quiet, clean, and welcome alternative to cars, depending on who you talk to. My mom was adamantly opposed to trying them in Paris, and when I mentioned them as a potential component of diversified transportation electrification strategies at a recent industry conference the reaction from another member of the audience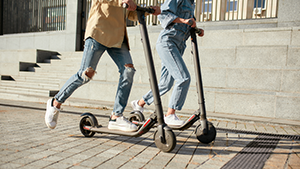 was…intense. In contrast, my husband and teenagers found public bikes and scooters to be the highlight of recent trips to Harlem, San Antonio, Denver, and Washington, DC.
Paris has strict rules for where dock-free scooters can park, has capped the size of the collective fleet, and has implemented restrictions on how fast they can go. Proposals to include age verification for riders and license plates to allow police to issue tickets for riders who violate traffic rules are also under consideration. In addition, the city is testing new technology to force riders to park scooters in designated spots. Similarly, my home state of NY has expanded the use of scooters per a Reuters report, but wisely passed proactive legislation to rein in their use (e.g., can't use them on sidewalks, can only operate them on roads with a speed limit of 30 MPH or less, and local municipalities can further regulate time, place and manner of operation).
Despite Paris' existing regulations, politicians are calling for Hidalgo to ban e-scooters when their operator's contracts end in February 2023. The three licensed operators (e.g., Lime, Dott, and Tier) argue they're helping the city achieve its environmental targets, according to a recent article in The Washington Post. Working to develop a micromobility solution that balances safety with convenience will benefit all, while helping to relieve pressure on busy public transportation systems. With Paris set to host the 2024 Summer Olympics and public transportation strikes like the one we experienced upon arrival wreaking havoc throughout 2022, Hidalgo has many reasons to find a workable strategy for the city. Impossible n'est pas francais.
Likewise, we should be working to develop a workable micromobility solution in the US. While the COVID-19 pandemic upended almost all established mobility patterns, Americans kept riding bikes and scooters. Numerous cities broke monthly ridership records and personal bike ridership increased overall. There was a 30-fold increase in e-bike trips between 2018 and 2021 in the US, and with prices dropping and options increasing, sales of e-bikes now outpace EVs, according to a recent report.
Conclusion
Like many Europeans, the Parisians we met on our trip were passionate about sustainability and displayed a genuine sense of urgency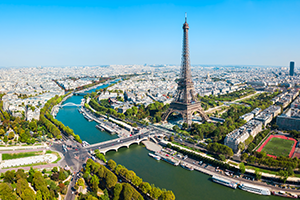 about meeting the goals of the Paris Climate Change Agreement. For them, it wasn't "We're being made to do this," but rather, "We absolutely have to do this because our future and that of our children depends on it." But that doesn't mean everything changed overnight or that there was one magic bullet that solved their problems. Au contraire.
Instead, it was a series of small steps that got France and the city of Paris to where it is today. It began with a strong public transportation system, then accelerated with incentives to manufacture EVs in the late 1990s, then accelerated again during the COVID-19 pandemic with incentives to purchase and lease EVs. Most recently, gains have been from incentives for EV charging installations coupled with reduced red tape, and the evolution to a more equitable and multimodal public transportation network that includes micromobility. It was the combination of transportation electrification initiatives that helped France—and frankly, most of Europe—to gain the momentum the US is working to develop.
France and the city of Paris have taken a bold stance and focused on highly visible quick wins to demonstrate meaningful progress on the sustainability front, despite the various barriers to modernizing a city of its age. This was a sentiment echoed by Brian Wilke, National Grid's director of transportation electrification in NY, in a recent Canary Media article where he stated, "It's important now to start trying some things [in the US]. We need to start getting some steel in the ground." The US can learn from the multimodal, action-oriented transportation electrification strategies of France and other European countries. Personally, I think micromobility has a certain je ne sais quoi.
Franklin Energy's EV solution offers a curated customer experience that meets the needs of residential and commercial customers every step of the way-whether they're looking to charge electric vehicles, bikes, or scooters. Our turnkey capabilities help utilities drive program participation, increase satisfaction, encourage responsible charging behaviors, and help manage grid impact. Interested in learning more?