Helping Rural Small Businesses Recover After Natural Disasters Strike
March 18, 2019 •Melissa Schmitz
Utilities and energy efficiency practitioners can play an important role in helping businesses recover from natural disasters. After all, engaging with utility customers soon after natural disasters strike is good for all parties. In times of recovery, business owners are overwhelmed with making a lot of decisions and utilities want to serve their customers. Customers need to have resources they can trust, and often the utility is one of the most trusted resources in a community. Providing post-disaster energy assessments helps businesses determine what equipment may need to be replaced, explains the efficiency incentives available to them, and helps find a reputable contractor to do the work.
Consider Focus on Energy's Community Small Business Offering who recently dove head-first into helping their community in a natural disaster setting. They partnered with 14 utilities to provide technical expertise and enhanced incentives following historic flooding in 33 rural communities in Wisconsin. A team of energy advisors visited each community for a week-long campaign of door-to-door customer outreach, and partner utilities even provided community and small business contacts in their service territories. Every small business in the campaign community received utility-branded letters explaining the special flood offering, but that was only the first step. They were also given free energy savings kits, free energy assessments, and were even offered enhanced incentives for replacing existing equipment with qualified, high-efficiency models.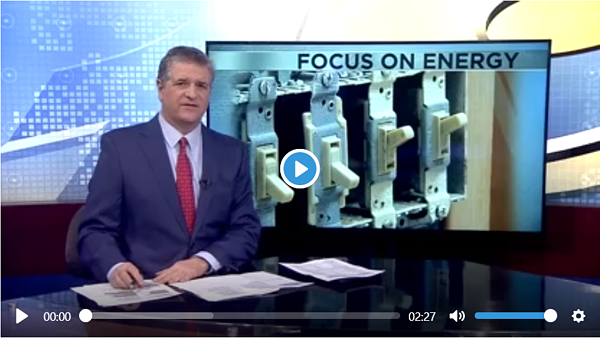 Trade ally contractors were also rewarded with $200 for every incentive application submitted on behalf of small businesses. This encouraged trade ally contractors to work in the areas affected by the natural disaster, thus speeding up recovery and rebuilding efforts.
Benefits:
Build trust and relationships between utility and customer while creating energy efficiency program awareness (Focus on Energy, in this case).
Make energy efficient equipment more accessible through elevated incentives, creating long-term savings for ratepayers.
Help businesses get back on their feet sooner by providing timely information and incentives.
Aid small businesses by identifying reputable contractors/trades people.
Disaster response is a natural fit for utilities because they already do it. Whenever floods, hurricanes, fires, or tornadoes strike, utilities respond by rebuilding distribution systems and restoring power to their customers. Broadening the scope of the response to include energy efficiency can and should be another value-added service that utilities offer to their customers. The Community Small Business Offering is a great example of how a boots-on-the-ground program can help utilities and energy efficiency programs serve customers and rebuild communities in times of need.
Franklin Energy can help your utility prepare for natural disaster response. Learn how by scheduling a meeting with our experts today!